Kuala Lumpur Lifestyle Hotel
Nestled in the heart of Kuala Lumpur, Central Market KL, Malaysia, Avenue J Hotel is more than just a place to stay; it's an experience that captures the essence of Malaysia's vibrant culture and rich history. Avenue J Hotel isn't just a place to stay; it's a destination where you can explore, relax, and connect with the heart and soul of Malaysia. Come experience the magic of Avenue J Hotel, where Malaysia's essence comes to life.
Our hotel's interior design seamlessly merges modern comfort with timeless elegance. Each room is thoughtfully curated to provide a sense of warmth and sophistication, featuring locally inspired décor, plush furnishings, and stunning city views. Experience a restful night's sleep and wake up to the heartwarming embrace of Malaysian hospitality.
Standard Queen Windowless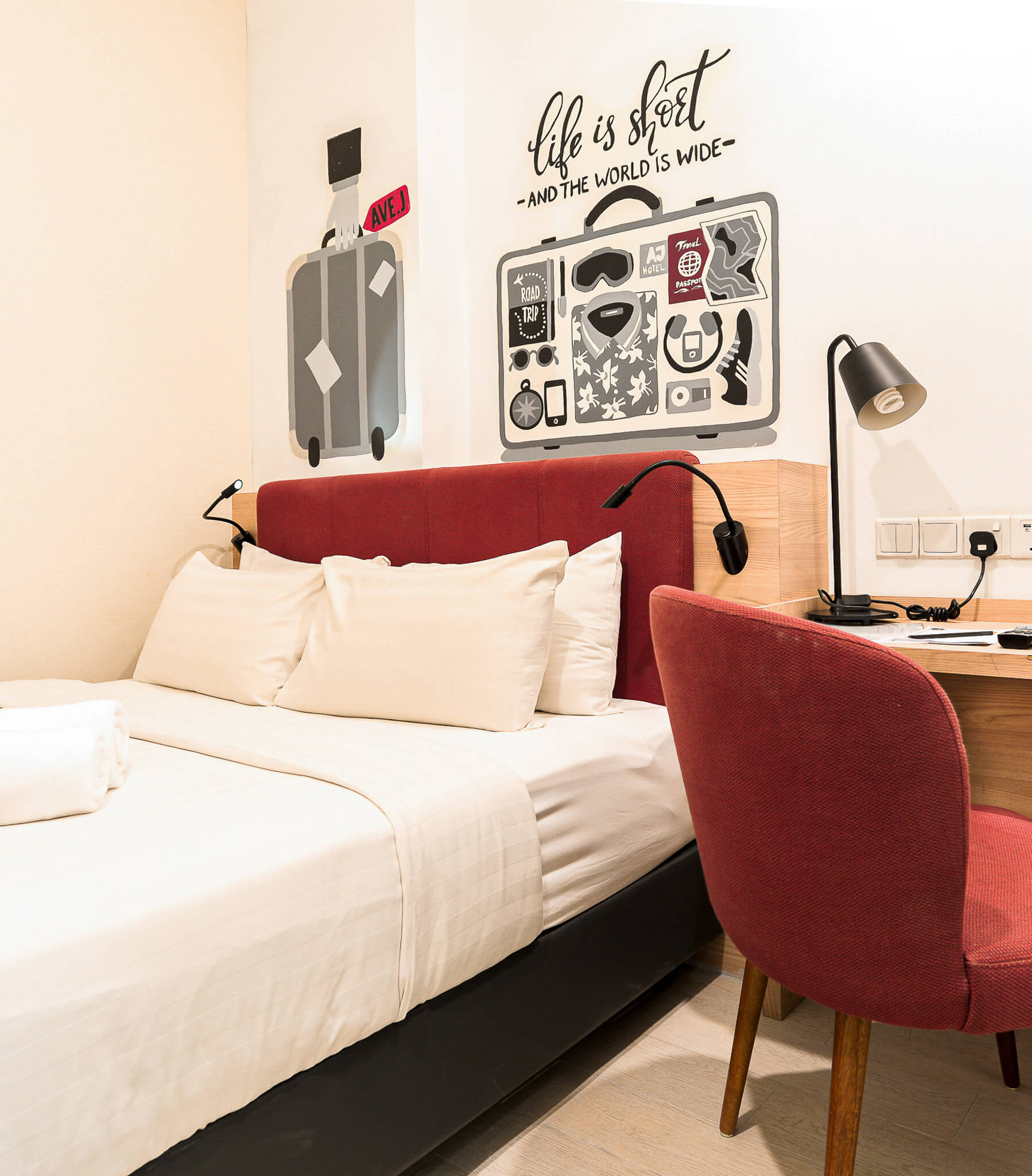 Standard Queen Windowless
Despite their compact size, these rooms are equipped with all the amenities necessary for a comfortable stay. Each room features a plush, queen-sized bed with luxurious linens, ensuring a restful night's sleep.
Deluxe Queen
Deluxe Queen
These rooms have earned their reputation as our best-selling category, offering guests a unique blend of sophistication, stunning views, and complete amenities.
Deluxe Twin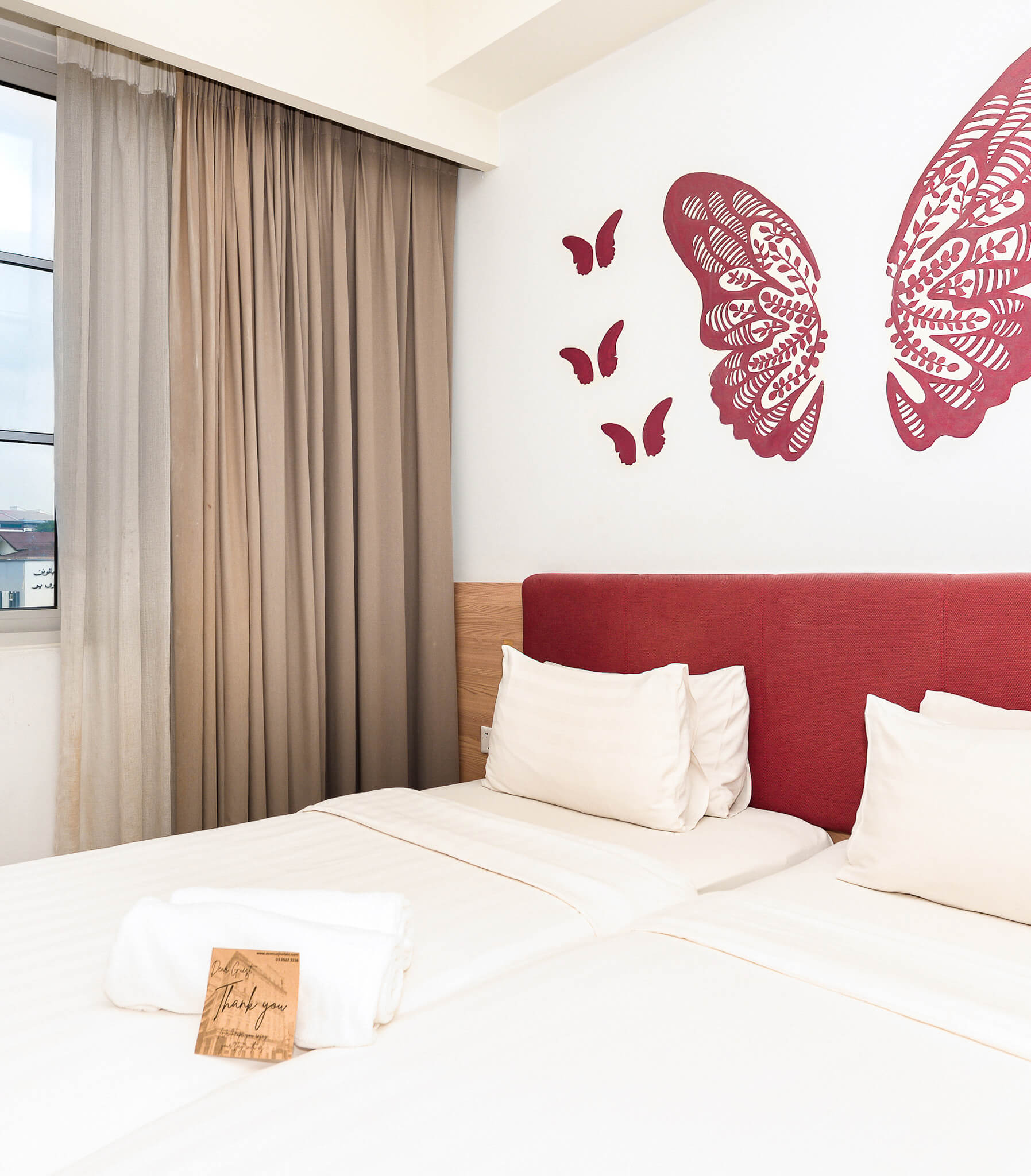 Deluxe Twin
These rooms are furnished with two plush twin beds, adorned with high-quality linens and an array of pillows. With meticulous attention to detail, these thoughtfully appointed accommodations have been crafted to cater to the needs of both leisure and business travelers.
Twin Superior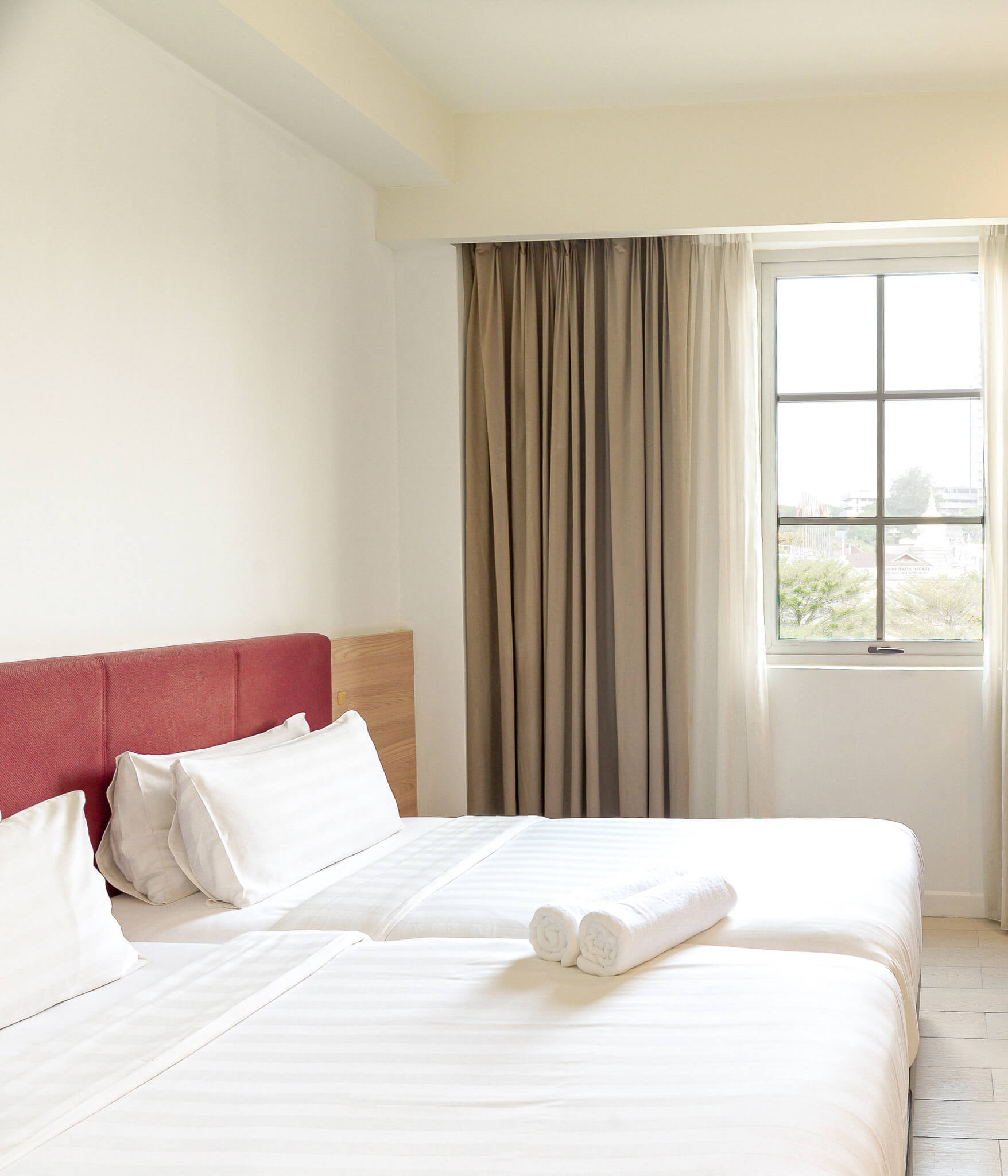 Twin Superior
Despite its compact footprint, this room category is the largest twin accommodation in our hotel, providing guests with a snug yet inviting space to relax and unwind.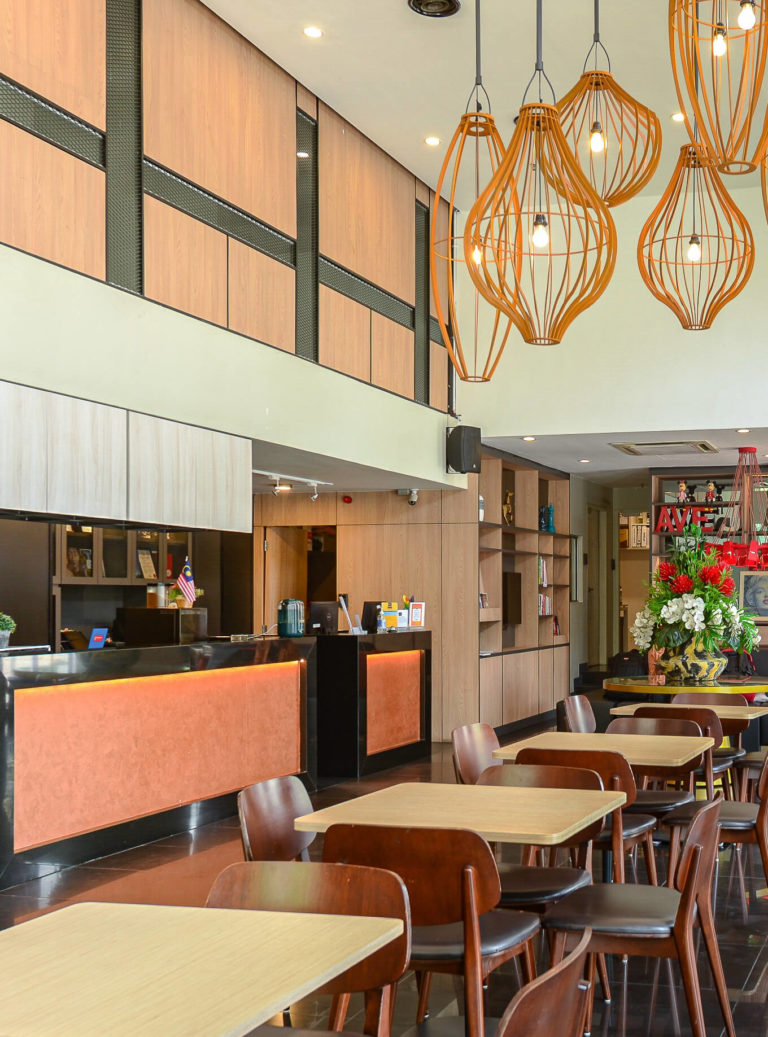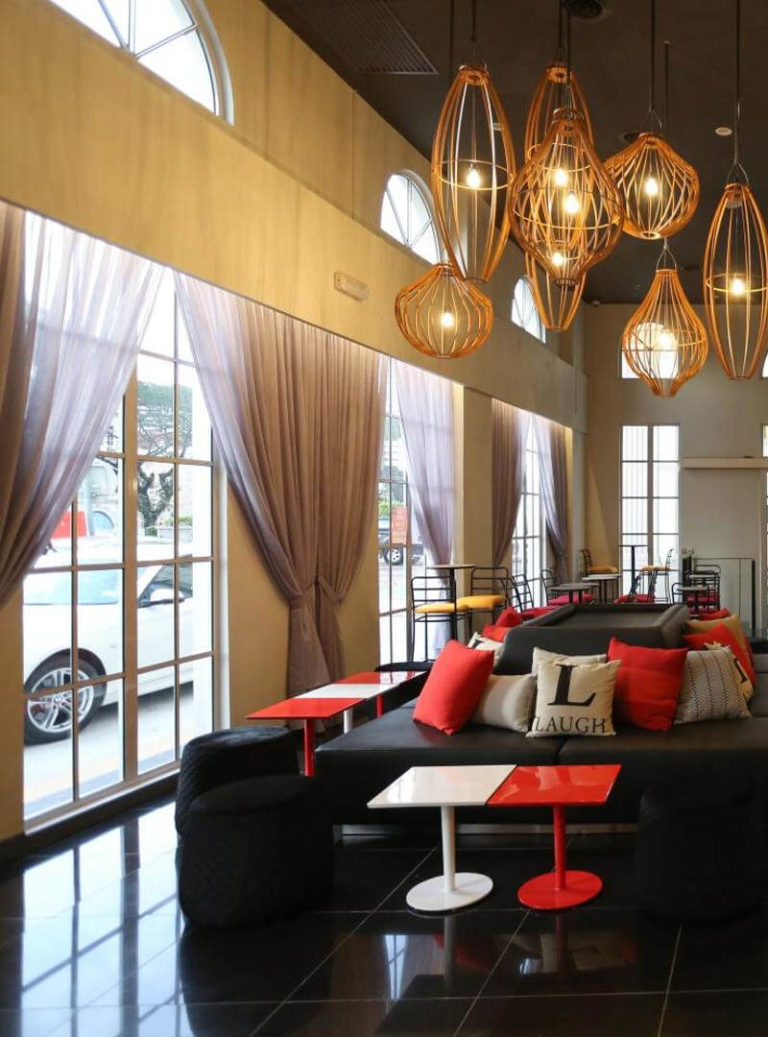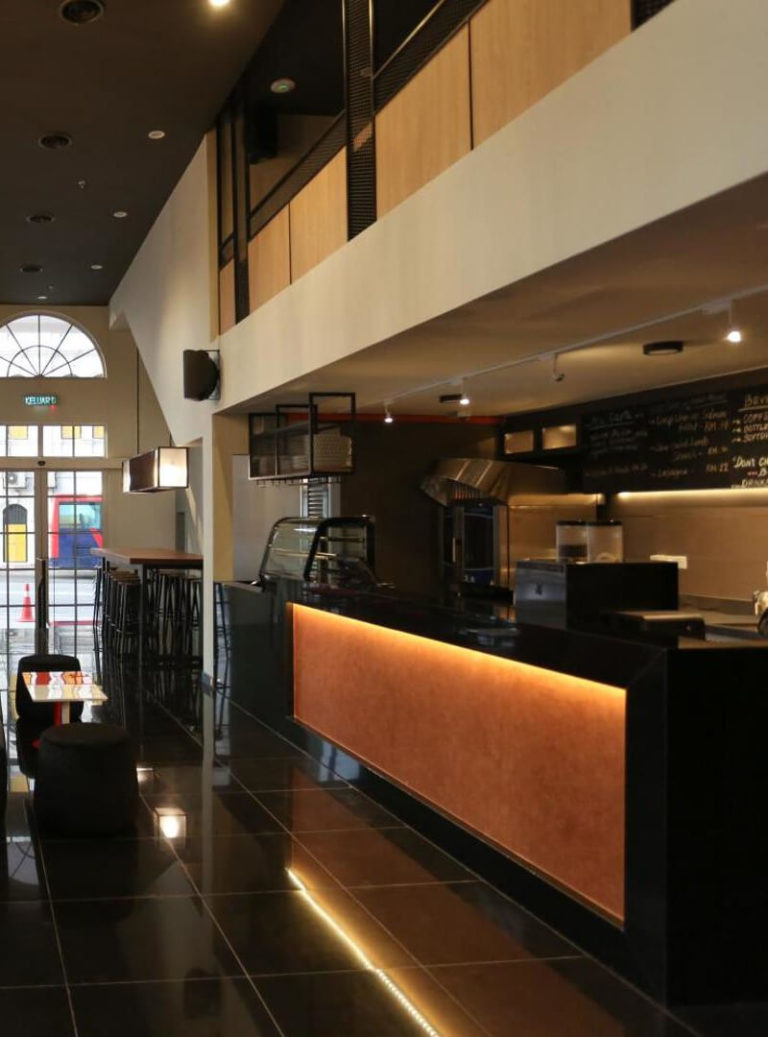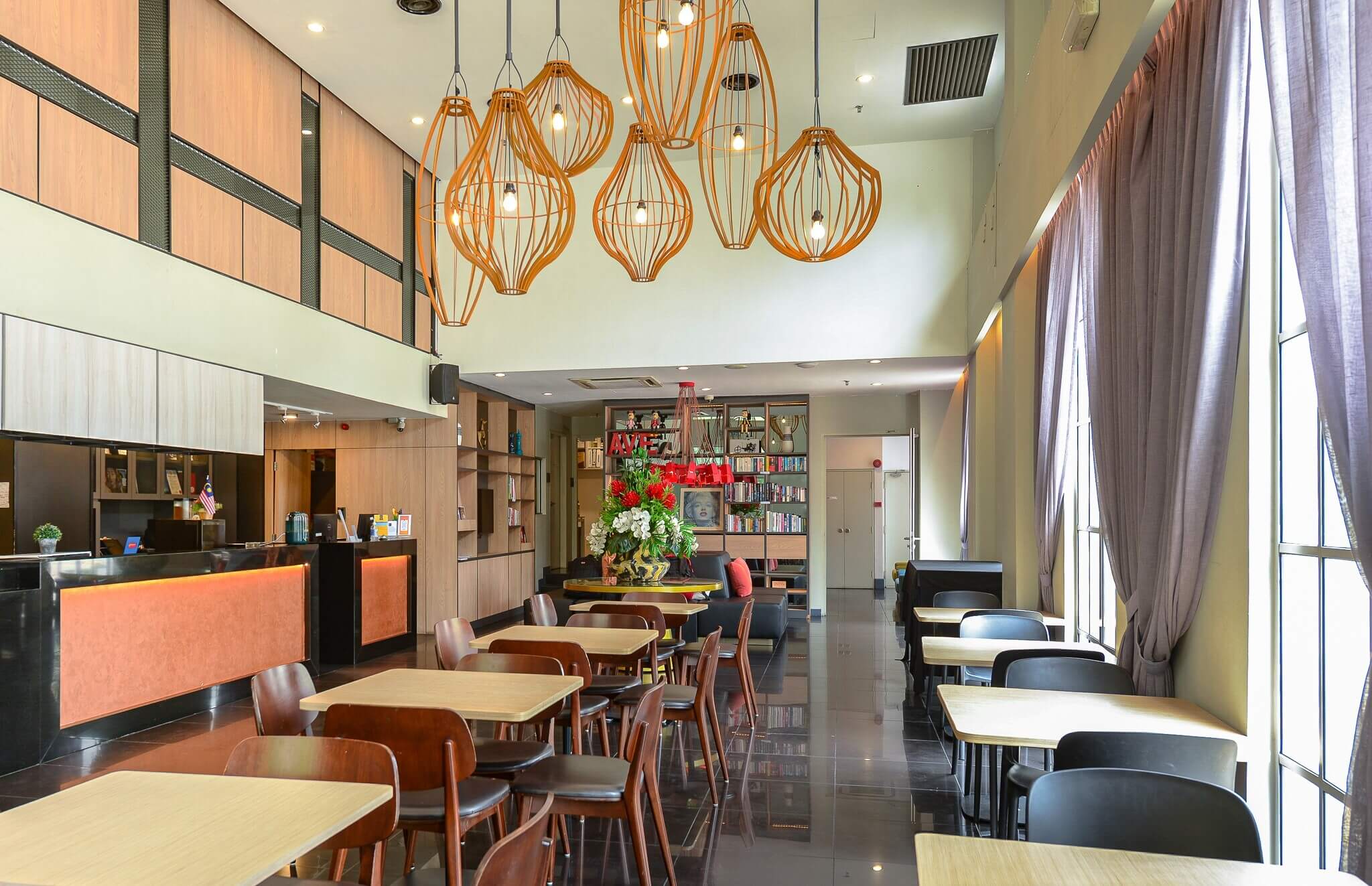 Located in our hotel lobby, our café focuses on simplicity and efficiency. We serve breakfast for our hotel guests, providing them with convenience and satisfaction. Additionally, we welcome walk-in customers seeking a quick and delicious meal to energize their day. Our hotel lounge is a cozy sanctuary for book lovers. Our lounge has a diverse collection of books and a separate area with fast WiFi for laptop work.
Looking for a cheap and affordable hotel located at Central Market that is nearby LRT Masjid Jamek or LRT Pasar Seni? Look no further. Not only that, there are a few of the many attractions that are located in Central Market, Kuala Lumpur. With so much to see and do, you're sure to have a great time exploring this vibrant city.
Freedom39703464162
October 4, 2023
Verified
Staff is nice hadi and zilo I like this hotel because morning breakfast nice and staff is very nice. In staff two people is very nice hadi and zilo both are always ready to help customers. Thanks hadi and zilo We always appreciat you. 🙏🙏🙏🙏🙏🙏
Verified
Strategic Simple hotel. Pay MYR 300 for 3 night include everyday nasi lemak breakfast in variation of rice (lemak, halia, biasa). Tip top in location. Closed to masjid jamek, so you can access 2 LRT, 1 MRT, 2 free shuttle GoKL stop, central market or pasar seni, dataran merdeka, klcg, Chinatown, masjid India easily.
Sid5515
February 26, 2023
Verified
Transit Stay for Running Event Just stay at the hotel as it the closest hotel to Dataran Merdeka, which is about 100-200m away where the KL Standard Chartered Marathon event held, so that I didn't have to waking up early and rushing to KL. As the location wise, it is quite strategic place for city travelers as it close to LRT & MRT station and some tourist spot like Sultan Abdul Samad Building, KL City Library, Central Market and Masjid Jamek. The room I choose is without window and a bit cramped, but that suit with my purpose staying there only for sleeping and prepare myself for the event.
gavinxyz
December 18, 2022
Verified
Good budget 3 stars hotel with good location Around 5mins walk from Masjid Jemak train station and Pasar Seni train station. Just walk long the river side and you will able to see the hotel. The Hotel just located at the river side. The room I have with window of the river view, you will be able to watch the blue river when at night. Room is small but everything work well. Good to stay if you want to explore the city and not just stay in room whole day. Wifi working well, TV and bathroon ok too. Have convenience shops, eating places, cafes nearby. The lobby look nice, hotel restaurant is at lobby. Not try the breakfast, so, no comment. No bottle drinking water provided in room, but there is a water machine at lobby that you can fill drinking water.
Verified
Great hotel, superb strategic location. Almost perfect but... Stayed here in June 2022 and booked the Deluxe Room. Surprised by a lack of reviews for this hotel so I decided to play my part by giving my honest review. Did not try breakfast though, Pros: - Location unmatched. Central Market beside, Chinatown (Petaling Street) behind, Kuala Lumpur CIty Gallery & Dataran Merdeka a few minutes beside & of course, the River of Life & Masjid Jamek just in front. -Aesthecially pleasing hotel, just like the buildings and scenery around it. There even is a few rental Beam E-scooters to cruise around. - Masjid Jamek LRT a few metres away. Just walk the whole River of Life and there is the metro. - Straighforward hotel that does its job, Room was decent and there is hot shower with one small soap and shampoo. Staff is approachable. Cons: - Not enough hangers. Seriously just one? Surely it does'nt hurt to provide more. - No freezer 🙁 - Housekeeping I feel should be done more. There was only one housekeeping done during my 5 day stay. - Some TV channels no signal like TV3 (the local Malaysian channel). How is that possible lol? Overall, I really recommend this hotel and I hope it keeps upgrading as there is a lot of untapped potential and could even be a 4-star hotel. But hey, I only paid $25 a night so maybe I shouldn't ask for too much lol. 4.5/5 hotel.
Verified
Muy buen trato El hotel muy bueno y el trato recibido fue excelente, sobre todo el chico de la recepción, que nos ayudó en todo momento cuando lo necesitamos. Además está muy bien situado dentro de la ciudad, y a unos pocos minutos andando de los mejores para visitar.
@BuncitTravels
December 8, 2020
Verified
Love the Art Deco facade & location This hotel is good value for travellers on a budget. Compact, quite clean & comfortable room facing onto the main road with a view of the river. Breakfast (which was included in room price) was okay, staff are pleasant. Just one major boo boo on the part of housekeeping when we checked into our room.. the toilet bowl in the bathroom had not been flushed!! A clear indication the toilet wasn't sanitized. Didn't want to make a fuss and flushed the toilet ourselves but that did put an initial blight on our stay. Toiletries provided were also very scarce, just a tiny tube of shower gel between two people which also had to double up as hand wash so a small bar of soap at the sink would have been nice. Overall, a pleasant stay, but Housekeeping, please buck up!
Verified
Matig hotel met goede ligging Het hotel was qua ligging prima, maar de rest viel echt tegen. Kamer waren slecht bijgehouden. Handdoeken waren smoezelig met vlekken. Beddengoed ook zo. Alle kitranden in de douche waren vies. Ontbijt was zeer matig en dan zeg ik het nog netjes. Dus dit viel zwaar tegen.
Book direct with us through our website and enjoy instant savings and attractive promotions. Check out our latest deals and offers below to get more benefits for you and your loved ones.
No promotion found. Follow our social media for latest updates.